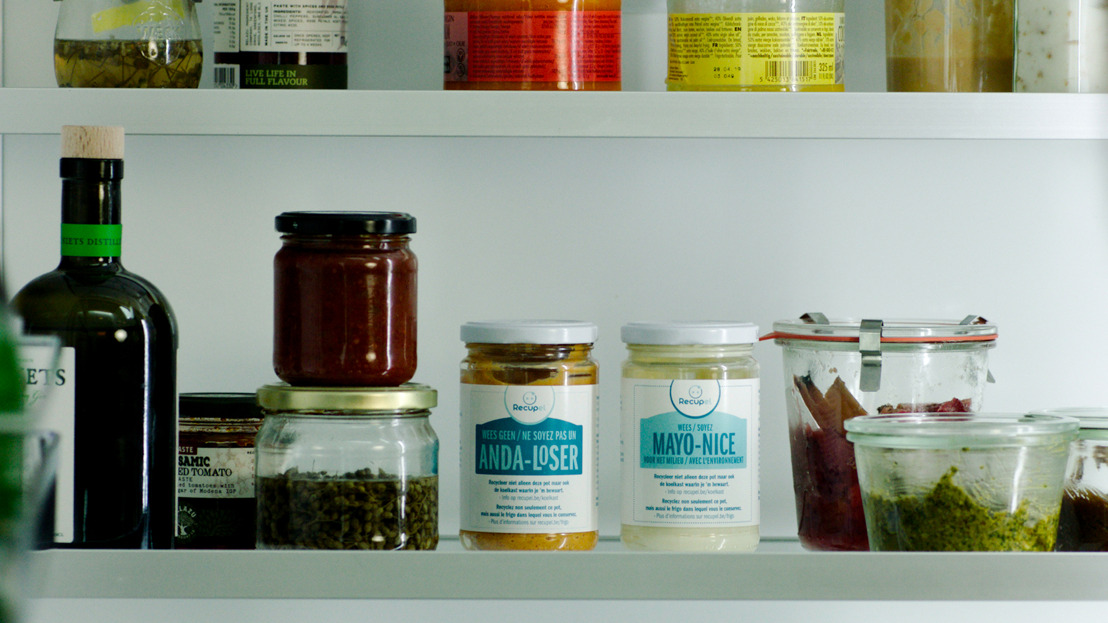 DDB and Recupel slip into your fridge
Monday, June 7, 2021 — Belgians are exceptionally good at recycling everything thats is in their fridge: bottles, cans, jars, yoghurt pots, butter dishes and so on. Only the recycling of the refrigerator itself needs to be much better. Recupel wants to urgently tackle this problem. So, how can you best reach people with a message about their refrigerator? By getting that message 'IN' their fridge. That is why Recupel is launching its own brand of sauces. A medium that's in the fridge for months on end and that is used all the time. On these sauce pots, people are reminded time and again to properly recycle their refrigerator.
1 in 3
One third of all refrigerators and freezers is not correctly recycled: that is more than 200,000 appliances annually. These pose a serious threat to the climate, because a refrigerator that is not properly recycled emits as many harmful gases as a 7,500 km car journey. Especially since an old refrigerator can be up to 98% recyclable!
Be mayo-nice for the environment.
That's why DDB came up with the idea of confronting people with that message as often as possible, by breaking into people's fridges. We did this by creating our very own brand of sauce. After all, sauces are kept in the fridge for months and are used often. They are therefore a perfect medium for presenting people with Recupel's message time and again. The sauces will be sampled through the delivery boxes of Delhaize. A mayo-nice extra in every box.
Don't be an anda-loser.
In addition to the sauces themselves, the campaign also consists of national newspaper advertisements, advertorials and an online video in which chef Sofie Dumon and her daughter Grace discover the importance of recycling a fridge properly. Not only for this generation, but more importantly to avoid saddling future generations with an environmental disaster. Together they follow how their broken fridge is dismantled and given a new life thanks to Recupel and their partners. Their message is clear: "Don't be an anda-loser, but be mayo-nice for the environment".
--
Credits
Client: Recupel
Client Annelies Evens, Tallita Ortiz de la Torre, Sofie De Vlieger, Valerie Simon
Creative Direction: Kwint De Meyer
Creation: Jan Schoofs, Jonas Caluwé, Lennie De Troyer, Catherine Hermans, Wim Provoost, Nicolas De Beauffort
Copy FR: Yannick Pringels
Strategy: Fiona Boyle, Dieter Riemaker
Connection Planning: Fiona Boyle
Account Management: Silvie Erzeel, Alice Simon, Annelies Schrevens, Flup Coppens
Design: Glenn Vanhasselt, Sven Verfaille, Sébastien Tirot
Mac Artist: Joël Kockaert
Traffic Planner: Hélène Koole
Delivery: Ben Loits, De Duytsche, Dealcourier
Production: MAKE
Head of AV productions: Mieke Vandewalle
Producers: Femke Timmers, Cindy De Mooter
Advertorial: Gicom (Sandrine de Vooght)
Media: Zigt (Sofie Van Craen & Ellen Bosmans), E-Talking (Arnout Everaert), MMD Delhaize (Julie Parisel)
Production sauce: La Moutarderie
Storage: Stockhabo Ice