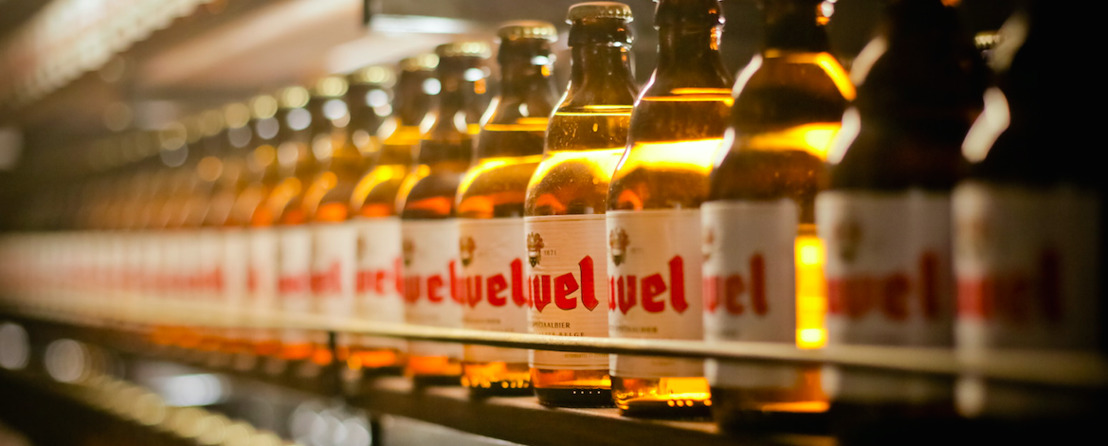 Duvel reveals secret ingredient in short film '90 Days'
Monday, March 7, 2016 —
Duvel is back with a new short film: titled '90 Days'. For the first time the brand gives a real insight into the mythical brewing process of 'Belgium's finest'. It's all done in a typically quirky way, as the iconic aging process apparently involves not only skill and patience, but also a good dose of Belgian rock n roll. For Jan Paternoster - the front man of Black Box Revelation - and singer-songwriter Daan play in the legendary cellars and help give the thousands of bottles their inimitable taste. They are a first-rate symbol of Duvel's passion and never-ending quest for perfection. Following a script written by DDB Brussels, this stunning film is a production of Wenneker.be and director Hugo Keijzer.
Very few people know how Duvel acquires its unique flavour, but you'll learn the answer in the latest film that the beer brand has launched this week. For the first time ever, you'll be taken on an overnight trip through the Duvel brewery and its mythical cellars. This is the place where thousands of bottles of ageing Duvel are cocooned with passion, care, craftsmanship and a touch of alchemy.
There you'll find that the hallways echo with a secret ingredient: an obsession for quality and a hefty dose of Belgian rock `n roll. During the nightshift, Jan Paternoster – front man of the band Black Box Revelation - and Belgian singer-songwriter Daan take up their guitars and add their own touch to the iconic aging process. Along with this musical addition, Duvel guarantees a unique 90-day ageing process involving craftsmanship, passion and technology. Or as insiders dare to claim: a touch of magic.
A nine-month ageing process
The film is the work of Belgian production company Wenneker.be and director Hugo Keijzer. Representing nine months of dedication and attention to detail, the result is no ordinary TV commercial, but a genuine 'short' film. "Duvel doesn't just do ads," suggests Anouk Lagae, Chief Marketing Officer at Duvel. "For us it's all about quality. And as it is with our beer, we always go for that little bit of something extra." Together, director Hugo Keijzer and DDB have created an artistic illustration of Duvel's unique ageing process that will inspire the mind. "We're not only proud of the result," said Michel Moortgat, CEO of Duvel, "but also very honoured to be working with top Belgian talent that demonstrate the same passion and dedication to their music as we do in producing our beers." For Daan, this is already the second time he's worked with Duvel. He didn't need much persuasion to play a new version of his hit song "Icon" for the film. And Jan Paternoster – equally excited by the project - surprised everyone with his own interpretation of Daan's "Icon".
Coming to a cinema theatre near you
As befits a real short film, '90 Days' will be screened in cinemas in a 60-second edit, and it'll even have its own movie poster! There will also be a 75-second online version and 40-second edit for television. It's may be three years since Duvel last made a commercial film, but with '90 Days' it's clear the iconic beer brand is back. And how.
Campaign : Duvel "90 Days"
Client: Duvel Moortgat
Client contact : Anouk Lagae, Kris Stuyck
Artiesten : Jan Paternoster (Black Box Revelation) & Daan
Creative Director : Peter Ampe
Script : Kate McMullen & Antoinette Ribas
Copy Fr : Gregory Ginterdaele
Production company: Wenneker.be
Director: Hugo Keijzer
Producers : Ellen Utrecht, Vanessa Jacob, Emily Rammant
Agency producer : Brigitte Verduyckt
Account Director : Francis Lippens
PR: Debby Wilmsen (Diamonds&Pearls)
DOP: Menno Mans
Editor: Ben Putland
Colourist: Toby Courlander
VFX: Glassworks Amsterdam
Music editing & audiomix: P&S London
Online planning : Jo Lories (Duvel Moortgat)
Soundtrack : Icon (new interpretation by Daan & Jan Paternoster)