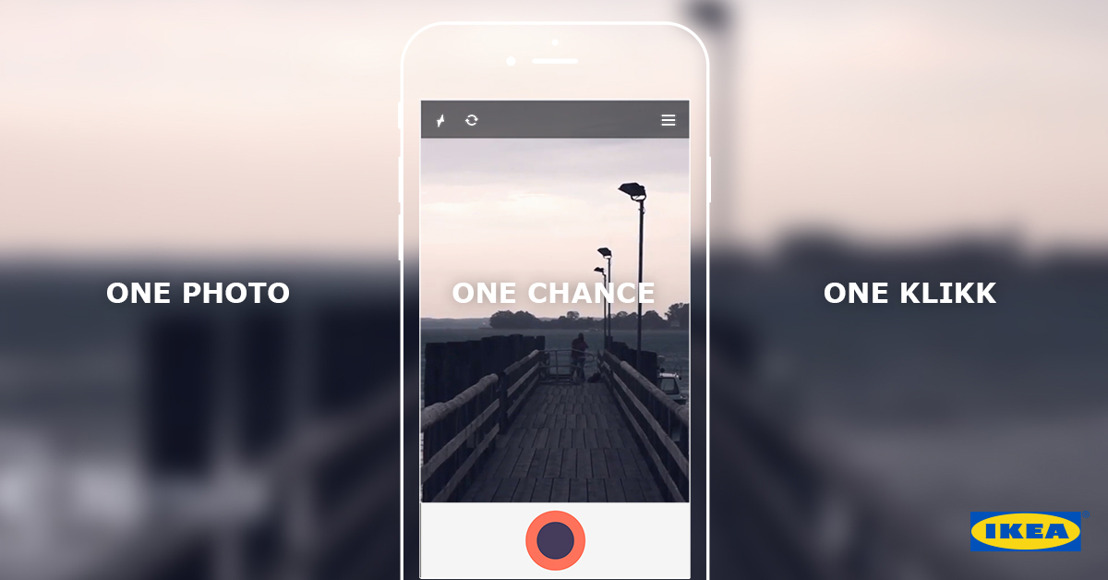 If you could take just one photo, what would it be?
Thursday, April 7, 2016 —
The new photo app, KLIKK, aims to remind people of the skills required to take a good photo, for with KLIKK, you can take just one photo. This forces you to think about everything: composition, timing and exposure. The new photo app launched by IKEA Belgium is an original promotional tool for the new IKEA Art Collection that this year has a theme totally devoted to photography.
Taking a photograph today has become banal. Not just because technological advances have ensured that all our smartphones are equipped with an impressive camera, but because we are beginning to forget what's required to make a 'real' photo. The art of photography is in real danger of disappearing, especially as we click away without really thinking and then choose the best photo. And if we are not completely satisfied with the result, there is any number of filters to make it perfect. It's clear, the definition of photography has changed, and even Wikipedia the online encyclopaedia agrees. They describe it so: "In recent years there is now a clear difference between taking and making a picture."
The true essence of photography
IKEA Belgium wants to make people aware again of the skills required to take a good photo, one where there's no fuss or Photoshop, just good timing, the right light and the proper framing of the shot … what's needed in short, is a good photographic eye. For this IKEA Belgium is launching a brand new application: KLIKK. It's a photography app that lets you take just one photo, and offers no possibility to manipulate it after the fact.
Best picture in the IKEA Art Collection
KLIKK has been launched together with the new IKEA Art Collection, a collection of posters by 11 renowned worldwide photographers. The collection will be available from April onwards in limited numbers. With KLIKK, there is an opportunity to be part of this prestigious collection. A professional jury will select one Belgian photo and make it the 12th 'work' in the IKEA Belgium Art collection. This means that the winning photo will be printed in a limited edition and distributed exclusively through IKEA.be.